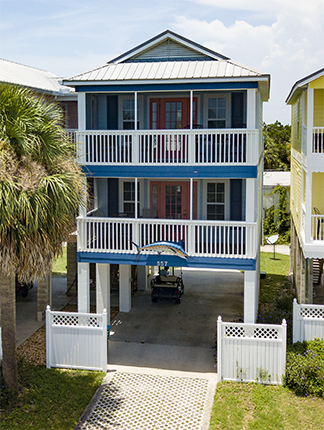 Steeped in a yesteryear stippled by catastrophic storms and the persistence of its kinfolk to remain there, Cedar Key knows the sea is mercurial. Countless scrappy livings were made via day-to-day goings-out and comings-in within its Gulf of Mexico. It was during these times when catches weren't only deemed lucky, but necessary to life. Much of that honorable tradition has stayed the same.
Once the personal, second-floor accommodation of the owners of the Cedar Key Harbour Master Suites, the Lucky Catch can be found in blue on First Street with its iconic marlin just outside.  From its private, screened balcony, its two fortunate guests can view those on morning strolls and afternoon bicycle rides carried along--as if by the tide—towards the heartbeat of the tiny town comprised of its marina, beach park and Dock and Second Streets.
Luxury Island Accommodations in Cedar Key
---
The Suites' sister, the Dilly Dally Gally, is anchored within the century-old village's waterfront, along with other fine gift stores and famed clam and crab dinners. When in season, oysters and stonecrab claws—also featured in those restaurants—are just yards away from the Lucky Catch. Purveyors of bait, tackle and boat rentals, steps from the marina, lie nearby as well as do bicycle, golf cart, kayak and paddleboard rentals. Boasting car and boat parking in additition to boatwash capability underneath its stilt façade, this favorite suite of the fish-frenzied is a two-minute walk from Second Street's splashy art galleries and whimsy-soaked bakeries and delis. Inside, one blessing of this latest addition to the Cedar Key Harbour Master Suites is the living/dining area's plush suede, café au lait couch amidst a contemporary array of earth and sea hues mottled with shots of black leather and wicker, starkly-photographed boat sails, glass-topped tables and walls the color of bubbly seafoam.
Accommodates 2 guests
King-size bed
Private screened balcony
Eat-in kitchen and living room
Full-size refrigerator
Vanity table
Boat parking
A standard-sized refrigerator, stove and oven are pluses after a day on the gulf. How lucky YOU are! Drop a line and dream of the grander catch in the bedroom which supports an opulent, king-sized "nautilus shell" bed of your own.   An unexpected, female-friendly surprise in the tidal-hued bedroom nook is an oyster-colored vanity table, chair and mirror sure to be relished by your own "luckiest catch of all!" A restorative shower, also ensuring sweet (or sea-salty!) dreams, in the aqua-gray bathroom is accentuated with a steely mirror and blue aster prints. Hours spent in our Lucky Catch are moments to remember… Seize and hold the opportunity to stay within!
As Hemingway once wrote, "Luck is a thing that comes in many forms and who can recognize her?..."
---
We celebrated our 3rd anniversary this weekend! We've never been to Cedar Key before, but we enjoyed every bit of the "laid back" atmosphere. Your house is beautiful! Love the way you decorated it! And it's within walking distance to everything! Thank you for a wonderful weekend with great memories.
Darren & Lisa, Jacksonville, FL
Couldn't have asked for better! The apartment is lovely and perfectly maintained. The location is ideal. Close enough to walk to the "main drag" in less than 5 minutes, but far enough away that you feel like you have your own space away from it all.
Amy, St. Pete, FL
The house was wonderful - very clean, well decorated, quiet & great location. We also enjoyed staying here & touring Cedar Key.
Cindy & Jeff
Our first visit here and will most assuredly be back! Loved the atmosphere and small community. Lucky Catch lives up to its name and the coffee was great! Loved the color scheme & decor also. Very pleasant. Thank you!
Mike & Angie, Hahira, Ga